at yakuzen restaurant Rin Oitate
Dishes served
Oitate's Chinese yakuzen provides the joy to savor different ingredients each season.
Rin Oitate offers multiple course meals that gently adjust the body condition as well as a la carte menus with which diners can casually enjoy Oitate's Chinese yakuzen.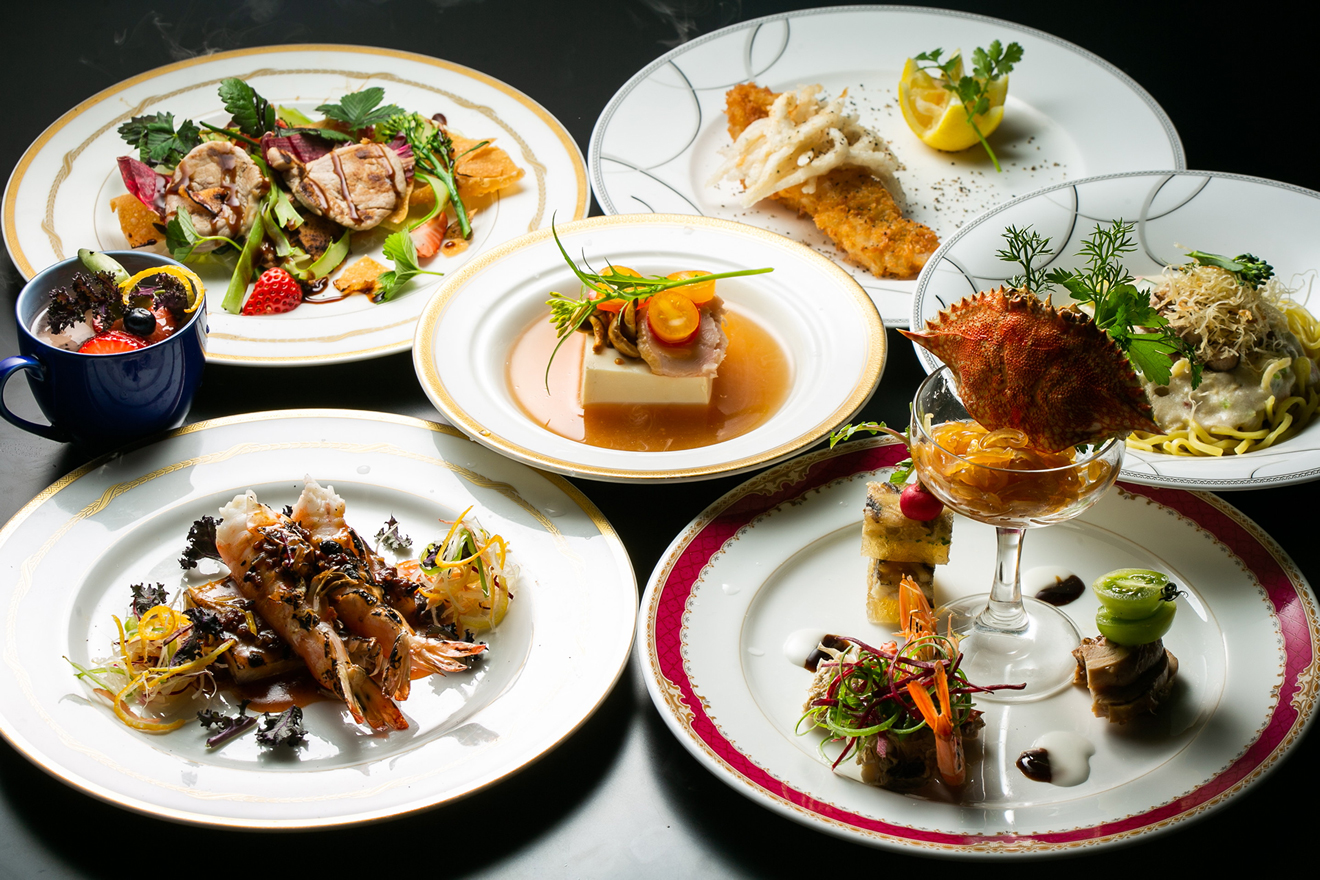 The Four Seasons of Oitate's Chinese Yakuzen
What makes Oitate's Chinese yakuzen unique is the use of seasonal ingredients for seasoning.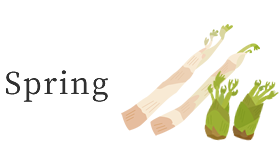 Oitate effectively uses sprouts in spring menus.The amount of nutrients decreases by half as vegetables grow.In other words, sprouts contain an abundance of nutrients that are good for the body.Fresh bitterness that conveys the vitality of vegetables adds nutrients, flavors, and depths to dishes.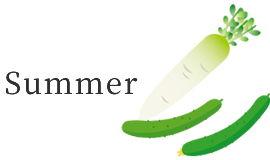 In summer, when the body tends to contain heat, ingredients that cool down the body are mainly used and combined with sauces made of ingredients that improve digestion, such as daikon radish, wasabi, and sun-dried citrus peel, to care for the body.
Fresh flavors not commonly seen in Chinese dishes are appetizing.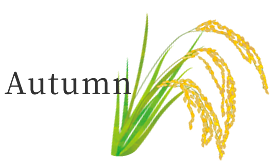 From late August to the end of December, when newly harvested rice is available, sauce made by blending cooked rice and seasonal vegetables into paste is widely used.The use of newly harvested rice, a natural sweetener, as an alternative to sugar is easy on the stomach and spleen, and helps create a healthy body and mind.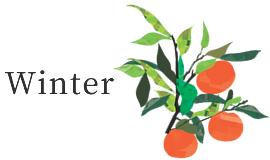 During this season, when body functions tend to slow down, Oitate also offers hot pots with ingredients that warm the body.Also served is yakuzen ponzu, a sauce with a perfect blend of the five flavors. Citrus fruits, such as sour orange, and the sweetness of honey improve the digestive function of the liver.
Course meal
Seiryu Kaiseki
<menu>
Assorted seafood and grilled cold dishes
Thick soup of vegetables and seasonal mushrooms
Stir-fried shiba shrimp and mixed nuts with spices
Stir-fried domestic tontoro and vegetables with sweet and sour
Deep-fried red chicken with condiment sauce
Okowa of lotus leaf wrapping of rice cake
Raw almond tofu with fruit
5,000 yen (tax included)
With all-you-can-drink 6,500 yen (tax included)
Shoryu Kaiseki
<menu>
Roasted Iberian pork and vinegared seafood cold dishes
Steamed shark fin from Kesennuma (30g) stewed soup
Stir-fried large shrimp and seasonal mushrooms with vegetable spices
Stir-fried black miso with sato duck and seasonal vegetables
Tilefish with herb spice sauce
Okowa of lotus leaf wrapping of rice cake
Raw almond tofu with fruit
6,500 yen (tax included)
With all-you-can-drink 8,000 yen (tax included)
Kinryu Kaiseki
<menu>
Assorted special cold dishes
The finest shark fin from Kesennuma steamed (50g) and matsutake mushroom soup
Stir-fried fresh shrimp and raw scallops with salt
Stir-fried medicinal miso with duck and vegetables
Beef here steak with homemade medicinal black spice
Tilefish with herb spice sauce
Okowa of lotus leaf wrapping of rice cake
Raw almond tofu with fruit
8,000 yen (tax included)
With all-you-can-drink 9,500 yen (tax included)
Chef Omakase Kaiseki
We will make a menu according to your wishes. We will consult with you on your budget.
10,000 yen ~(tax included)
Please note the following when ordering multiple course meals
Multiple course meals are available for two diners or more.
Please make reservations at least two business days in advance.
Private rooms are available for 150 minutes. All-you-can-drink package lasts for 120 minutes.
Dishes for allergy sufferers, vegetarians, and vegans are available.However, they cannot be served unless requested at the time of reservation.
The number of guests can be changed on the day of the visit.There are no cancellation fees. Please feel free to contact us.
Please check the contents of multiple course meals at the restaurant.
Lunch menu
Saturdays, Sundays, and holidays 11:30 ~ 14:00(On weekdays, reservations can only be made for groups of 10 diners or more)
Chinese Lunch
Shrimps with Chili Sauce and Vegetables
Sichuan-style Tofu and Minced Meat Stir Fry
Seafood and Vegetable Stir Fry
Kurobuta (Berkshire breed) Pork Stir Fry with Black Vinegar
Select Egg and Crab Omelet with Starchy Sauce
Squid and Vegetable Stir Fry with Mustard
Deep Fried Noodles with Vegetables
Vegetable Salad of the Day,Served with Seasonal Vegetable Soup,Rice(Refills available),Served with Almond Jelly.
1,650yen(tax included)
Beef Fillet Steak Lunch
Assorted Vegetable Salad of the Day
Collagen-rich Soup of the Day
Black Beef Steak(From australia 130g)
Rice,Marinated Chinese Pickled Vegetable
Served with Almond Jelly
Rice(Refills available)
2,980yen(tax included)
Appetizer
| | |
| --- | --- |
| Assortment of 3 Cold Dishes | 2,916yen |
Soup
| | |
| --- | --- |
| Yakuzen Shark Fin Soup | 2,160yen |
| Shark Fin Soup | 1,458yen |
Fried food
| | |
| --- | --- |
| Deep Fried Garlic Marinated Chicken | 1,458yen |
| Spring Rolls with Vegetables | 1,458yen |
Noodles/rice
| | |
| --- | --- |
| Beef and Vegetable Fried Rice | 1,188yen |
| Scorched Rice with Vegetables and Seafood | 1,620yen |
| Noodle Soup with Vegetables | 1,458yen |
| Deep Fried Noodles with Seafood and Vegetable Starchy Sauce | 1,458yen |
Stir fry
| | |
| --- | --- |
| Large Shrimps with Chili Sauce and Vegetables | 1,782yen |
| Large Shrimps Stir Fried in Mayonnaise | 1,782yen |
| Thinly Sliced Sirloin Steak Lettuce Wraps | 1,836yen |
| Stir fried squid and vegetables | 1,620yen |
| Seafood and Vegetables Stir Fried in Butter and Salt | 1,620yen |
| Kurobuta (Berkshire breed) Pork Stir Fry with Black Vinegar, Served with a Salad | 1,620yen |
| Scallop and Vegetable Stir Fry | 1,782yen |
| Spring Chicken and Cashew Nut Stir Fry | 1,620yen |
| Tofu and Minced Beef Stew | 1,620yen |
| Crab Omelet with Starchy Sauce | 1,782yen |
| Black Beef Fillet Steak(120g) | 3,780yen |
Dim sum
| | |
| --- | --- |
| Oitate's Special Jumbo-sized Sesame Balls (filled with red bean paste)(2 pieces) | 972yen |
| Almond Jelly with Fruit | 648yen |